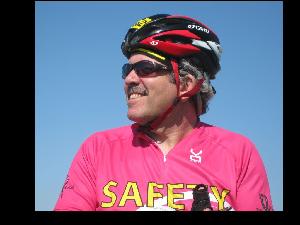 My coworker Chris has been biking the MS 150 for years now. I received an email the other day that he is again doing the ride and seeking donations. If you are looking to give to the National MS Society I recommend you donate through Chris. I am thankful to Chris and the other bikers for their efforts. Safe travels.
You can click here to quickly contribute or here is an excerpt from the email he sent me:
As a past donor I want to thank you for your support in prior years and ask for your support again this year. I had the opportunity to hear a wonderful speaker with MS address the Ride Marshals group that I volunteer with and your contributions really do make a difference in the lives of those stricken with this debiliting disease. – Chris

Every hour, someone is newly diagnosed with multiple sclerosis, an unpredictable disease of the central nervous system.

I registered for the 2013 BP MS 150 because I want to do something about MS now. I'm asking you to support my efforts with a tax-deductible donation.

The National Multiple Sclerosis Society is dedicated to creating a world free of MS and they need our help. It's faster and easier than ever to help: Simply click the link at the bottom of this message or, if you prefer, send your check payable to the National MS Society – P.O. Box 4125 – Houston, TX 77210-4125. Be sure to write my name and "BP MS 150" in the memo section of your check.

Your contribution funds crucial MS research and helps families with MS lead powerful lives. I appreciate your support and promise to update you.

For more information about the National MS Society, how proceeds help and other ways you can do something about MS now, visit MakeYourMarkMS.org.